Nurse Advice
We have a triage nurse available to provide guidance on questions or concerns you may have about your child's health. You can call or text your question to 623-877-7337 for more assistance.
Text to Reach Us
We offer the ability to communicate with our team via text message in lieu of calling us during office hours. We value your time and this service is a quick and easy way to reach us without having to wait on the phone line. Text the same number you call, 623-877-7337.
After Hours
While our offices close at 5 PM on Monday – Friday (closed on weekends & major holidays) you have access to a qualified triage nurse through our answering service. Call our main line to be connected.
Poison Control
If your child has ingested anything that you are concerned may be dangerous (e.g., medications, household products, etc.), call poison control immediately and follow the hotline's advice prior to contacting your physician at 1-800-222-1222.
Dosage Chart
Acetaminophen and Ibuprofen
Do not give Tylenol to children under 3 months of age without first consulting your doctor. Do not use ibuprofen before the age of 6 months.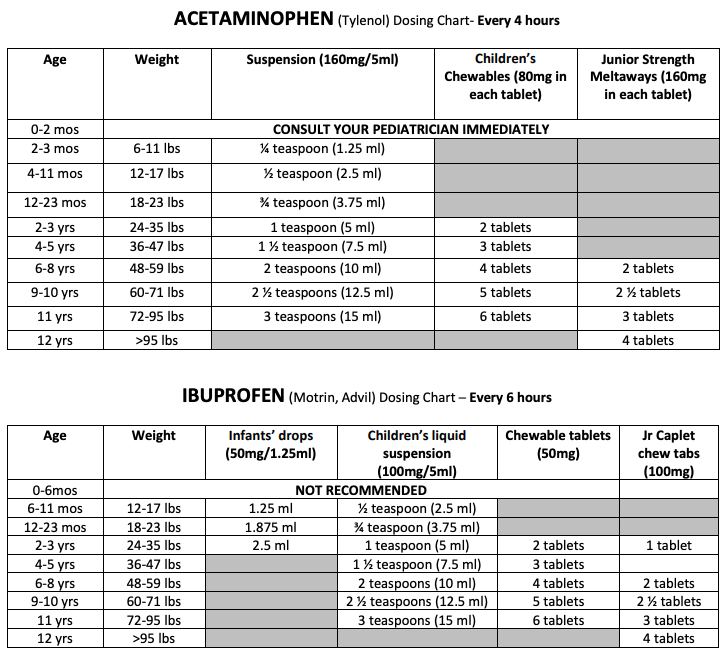 Our Locations
West Valley
4137 N. 108th Avenue
Phoenix AZ 85037
Office: (623) 877-7337
Fax: (623) 772- 0686
Monday - Friday 8:00 AM - 5:00 PM
Facebook
Ballpark
3802 N. 53rd Avenue, Suite 160
Phoenix AZ 85031
Office: (623) 877-7337
Fax: (623) 247-6537
Monday - Friday 8:30 AM - 5:00 PM (closed for lunch)
Facebook
Goodyear
700 N. Estrella Parkway, Suite 110
Goodyear AZ 85338
Office: (623) 877-7337
Fax: (623) 932-2443
Monday - Friday 8:30 AM - 5:00 PM
(closed for lunch 12:30-1:30)
Facebook
Arcadia
4840 E. Indian School, Suite 100
Phoenix AZ 85018
Office: (623) 877-7337
Fax: (602) 956-0773
Monday - Friday 8:30 AM - 5:00 PM
(closed for lunch 12:30-1:30)
Facebook
Buckeye
4161 N Pioneer Dr, Suite 101
Litchfield Park 85340
Office: (623) 877-7337
Fax: (623) 267-4727
Monday - Friday 8:30 AM - 5:00 PM
(closed for lunch 12:30-1:30)
Facebook
Surprise
15264 W. Brookside Lane, Suite 155
Surprise AZ 85374
Office: (623) 877-7337
Fax: (623) 214-3219
Monday - Friday 8:30 AM - 5:00 PM
(closed for lunch 12:30-1:30)
Facebook